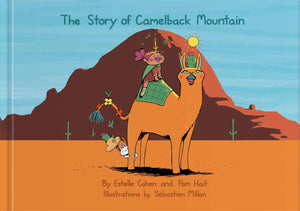 The Paper Place, Scottsdale
The Story of Camelback Mountain
Regular price
$16.95
$0.00
Unit price
per
The Story of Camelback Mountain tells the untold story of Camelback Mountain which is an iconic Arizona landmark. The legend stars a princess whose great grandfather gave her a baby camel which, with the princess's help, will be very special to the world. With its gentle reminder to honor nature, this tale will charm toddlers to adults.
It was written by Paradise Valley resident Pam Hait and her granddaughter Estelle Cohen, with illustrations by Sebastien Millon, also a Valley of the Sun resident.
All proceeds from the sale of this book benefit the Paradise Valley Mountain Reserve Trust.
---